I'm going to be completely honest about my website views and Pinterest in this post. I'm still a relatively new blogger. Yes, that's right. I don't have the history of some other Pinterest bloggers. But they won't be telling you that they started from nothing. Most of them want you to think they started off as experts. Newsflash: most bloggers aren't experts at all. We just want to be.
And that's where I was back in March 2020 when I started this blog. I was running a stress blog and wasn't too happy writing about the topic. I had a Pinterest account that I used and saw the good things it was doing for me, but I didn't want to blog about stress. In fact, I dreaded it even though I am all about good mental health and stress relief. It just wasn't something I could see as a business venture.
Seeing the results I was getting from Pinterest though–I started really diving into the platform. Since I have a marketing background, this made much more sense to me. Also, I don't love social media despite that most marketing people do. Here's why–it stresses me out. Ha! The constant comparisons, arguing, highlight reels, and fakeness over the years has really turned me off to most social media platforms. But I saw the good in Pinterest and stuck with it.
In 2020, I decided to drop posting to every social media account except Pinterest, and at times, Youtube. This was because I truly wanted to master Pinterest.
Note: In 2021, Pinterest decided to change the metrics. You can read about those changes here. This post reflects the previous metrics used on Pinterest.
The Pinterest Experts
Ok, so now you know I'm not a true Pinterest expert, but I do have a love for the platform. I follow many Pinterest bloggers and they all seem to contradict each other. One of those topics that is discussed on Facebook groups and blog posts is monthly views on Pinterest. Some state that monthly views don't matter at all. Others say monthly views are important. Some think monthly views on Pinterest means website views and signups. So, who's right?
Let's take a look at monthly views, website views, and how Pinterest can help your business.
What are Monthly Website Views on Pinterest?
We've all seen the pins floating around in the Pinterest universe about how a blogger went from 0 monthly views to 2 million in 60 days. Usually, the advice comes down to keywords and the blogger finding the magic words to use on their Pinterest account that pushes them to rank higher.
It is important to use keywords, but 2 million views in 60 days is a reach. If a blogger states this, they should have some screenshots of their analytics to back this up. I am currently at 329k monthly views. This is up from 156k monthly views about a month ago. I have been using Story Pins to increase my reach, but over Christmas, my monthly views dropped. This is probably due to people not using the platform as much during the holidays.
I've noticed my followers increasing from about 1 a day to 5-10 a day. This improves the monthly views because it is more eyes on my content.
A "viewer" is a number that indicates how many people have seen any content you've pinned or saved to Pinterest. It can include pins you've promoted through ads, pins you've created and scheduled or saved from your website, and pins you've saved from other people's websites. It is not the same as website views.
My monthly views on Pinterest don't compare with bloggers who've been around a while because I had to build my profile from scratch, which is probably what you are doing too. It's growing, so I focus on that instead of not being at 2 million monthly views.
How do you see how many monthly viewers you get on Pinterest?
If you log into your Pinterest for Business account, you'll go to the Business hub. Right away, the monthly views are visible on the right-hand side of the screen. Notice my monthly viewers circled in yellow below:
You can also view your monthly viewers from your profile. If you click on your profile in the top right corner, it will bring you to your profile. You can see your monthly viewers from that screen as well.
Don't confuse "monthly viewers" with "Monthly Total Audience" which is seen in the Analytics feature at the top of the screen. If you click on Overview, you'll come to the dashboard which will give you the option to change the metrics by clicking on the dropdown box above the graph. This metric includes engagements and is not the same thing as a monthly view. It includes views and engagements over a period of 30 days and is a helpful metric in seeing the combined numbers. Engagements can also include someone who clicked on your pin. More on that in a bit.
Do monthly website views matter?
Some people consider monthly views as a vanity metric, meaning, it makes you look important and high-ranking, but actually it doesn't really show the success of your business or Pinterest account. It's similar to when people buy followers on Facebook. It doesn't represent your true engagement or audience. 
Monthly views represent your reach. Without reach, you can't get email signups, website views, purchases, or visits to your blog. So in that sense, monthly views are important. But they aren't the only metric you should use to see how you are doing. If your monthly views are high, it might be that you shared someone else's pin and it went viral. It doesn't necessarily mean your own pins or your content is successful. So that's why it is a vanity metric. It's not a true representation of your success as a business or blogger.
Let's say you look at all the other metrics which show engagements and clicks and they are looking good too. Then you know your monthly views are accurate to what you are seeing with engagements and website traffic. If you also include your Google Analytics data and see success there, then you can be certain those monthly views are working in your favor. Ideally, you want website views that turn into email signups or purchases on your website.
What metrics should I focus on?
Let's breakdown the metrics from the Analytics dashboard dropdown list.
Impressions – The number of times your pins were on screen.
Engagements – The total number of engagements on your pins, including saves, closeups, carousel swipes, and link clicks. (Engagements are good! They lead to website views, email signups, and product purchases.)
Closeups – The total number of times people viewed a close-up version of your Pin.
Link Clicks – The total number of times people have clicked on your Pin to a destination on or off of Pinterest. (This metric is good too! Link clicks equal website views.)
Saves – The total number of times people saved your Pins to a board.
Total Audience – The total number of people who have seen or engaged with your pins.
Engagement Rate – Total engagements with your pins divided by the total number of times your pins were on screen. Engagements include saves, closeups, link clicks, and carousel swipes.
Closeup Rate – Total clicks to a closeup view of your pins divided by the total number of times your pins were on screen.
Link Click Rate – Total clicks to a pin on or off Pinterest divided by the total number of times your pins were on screen.
Save Rate – Total saves of your pins divided by the total number of times your pins were on screen.
Engaged Audience – The number of people who engaged with your pins.
Monthly Total Audience – The total number of people who have seen or engaged with your pins in a 30 day period.
Monthly Engaged Audience – The total number of people who have engaged with your pins in a 30 day period.
Each of these metrics can help you understand the success of your pins, however, it's best to also look at Google Analytics and Tailwind. These platforms will give you other numbers that help you understand the bigger picture.
It's important to focus on the number of sessions, how many email signups or conversions you are getting, clicks to your website, visits to a sales page, and which pins are getting the most clicks. Clicks don't always equal signups or purchases, but it is a good metric to see if people are interested in your content.
To view metrics in Google, go to Acquisition–>All Traffic–>Source/Medium. Here you can see sessions that are coming from Pinterest. Also, try Acquisition–>Social–>Network Referrals to view the traffic from each network.
To see which pages on your website are working well, go to Behavior–>Site Content–> Landing Pages. This metric will show your most popular content.
The best tips for increasing your website views
The best way to increase your numbers is by focusing on your keywords. Then, use those keywords in your profile, boards, pins, and on your posts on your website.
Here are some other suggestions:
Watch your referral traffic on Pinterest to understand your success rate
Focus on the "rates", such as link click rates or engagement rates to understand what's going on with your pins
See which pins are performing the best and make more of those types of pins
Use Story Pins and video pins for more reach (Take my free Story Pins Course here!)
Stay active on Pinterest using manual pinning and scheduling with tools such as Tailwind (Get 30 days free with my affiliate link)
Create new content regularly and use keywords in that content
In the comments area, let me know what has been working in your Pinterest strategy!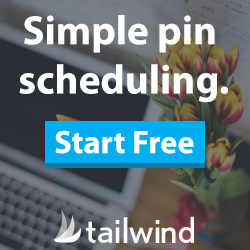 Sources: